COLEGIUL NATIONAL "ELENA GHIBA-BIRTA ARAD"
LUCRARE PENTRU OBTINEREA CERTIFICATULUI DE COMPETENTA LINGVISTICA LA LIMBA ENGLEZA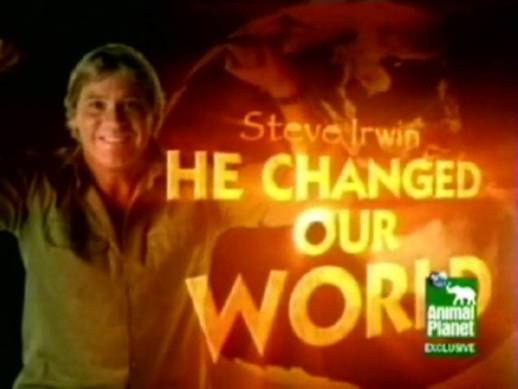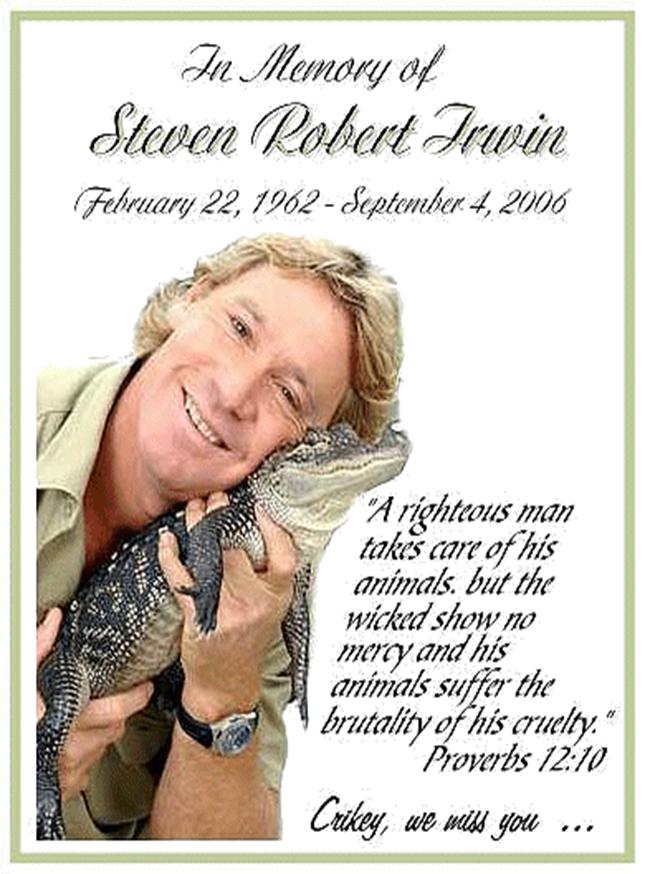 CONTENT
INTRODUCTION
CHAPTER 1. THE BEGINNING
1.1. Parents
1.2. Early life
1.3. Terri
1.4. Steve and Terri's children
CHAPTER 2. CAREER
2.1. Documentaries
2.2. Film
2.3. Later projects
2.4. Media work
2.5. Environmentalism
2.6. Born for animals
2.7. Accidents
CHAPTER 3. PERSONAL LIFE
3.1. Humanitarian Aid
3.2. Sports fan
3.3. Politics
3.4. Controversy
3.5. Honours
CHAPTER 4. THE END
4.1 Death
4.2. Stingray
4.3. Blacklash against stingray
4.4. Reaction
4.5. Tribute brought to Steve
4.6. Critics after Steve's death
4.7. Funerals and memorials
4.8. Memorial service
4.9. Others memorials
4.10. The final hunt
4.11. Conclusion
PRECIS
BIBLIOGRAPHY
1. INTRODUCTION
In Australia, in a suburb of Melbourne, in Essendon town was born 44 years ago the man who later was going to become a model for millions of people from all over the world "STEVE IRWIN".
Australia was the place that he most loved, he grew up in there, he lived in there and he died there. Steve represented his country with honor and proud, he was a symbol of Australia, known in all over the world.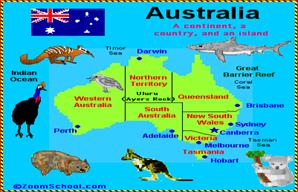 Steve Irwin was and still is even after his death a model for the entire world. Many people didn't even known his name, but they definitely recognized him as "The Croc Hunter". With his irresistible enthusiasm, his Australian accent he was a born communicator.
A talented man with a special passion, who often donated the money he earned from his television work to conservation, education programs and offered help to the unfortunately person.
At the heard of the news that he died, the whole world had a shock, millions of people sent messages of compassion and encouragement to the grief family.
Steve broke any record of audience, being seen for more that 500 million people in 122 countries and trough his unique personality he was the most loved and well known Australian from all the times. Irwin was declared by "People Magazine" the most loved personality of the world. The news of his death was the most quested new in 2006.
Steve was a legend an he died doing what he most loved: interacting with animals, he knew that wildlife belong to the bush and that it is enough to watch it and is not necessarily to touch it, but he wanted to get the wildlife in our hearts too, and that is what he did !
Irwin once said "I treat the animals like I would like to be treat" !
With Steve's death a great life was lost, he was an extraordinary man of fun and laughter with an enormous heart.
His tragic death will create a vaccum in zoological research and the real wild life adventure lovers all over the world. Its sad that he met his death so early in life, but its probably the way he wanted to go.
The loss can not be repaired, I believe. All future wildlife enthusiasts have to learn a lot from him. May his soul rest in peace!
Chapter 1.
THE BEGGINING
1.1. Parents
Robert Irwin born in 1939 in Melbourne is an Australian naturist, animal conservationist, who spent his life protecting reptiles, amphibians and other animals. Bob was a successful plumber from Melbourne, who spent time building sheds and houses. His career in animal conservation officially began in 1970, when he moved with his family from Essendon to Queensland.
Irwin had decided to turn his love for animals from a hobby into a career and purchased four acres of land to construct a wildlife refuge.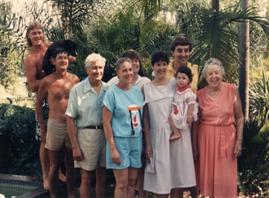 As builder Bob designed and built "The Beerwah Reptiles Park". He dedicated so much time to built the Park that, they lived in the first year an old RV caravan.
Then he built his own house, where his family inhabits even today.
The family house was itself a mini zoo . and a hospital for wild animals Steve's family
Later the Park would be significantly expended to cover sixty acres. He was noted in the conservation sector for using non-violent capture techniques. Bob caught injured crocodiles and took them to the Park.
Bob married Lynette maternity nurse. Together, they have three children: two girls Joy and Mandy, and a boy Steve. Although Irwin was officially a plumber and Lyn a maternity nurse, the family's consuming passion was rescuing and rehabilitation local wildlife.
1.2. Early life
Steven Robert Irwin was born on February, 22 1962, in Essendon town, in Victoria state. . Steve was the middle child, born at his mother 20th birthday, who declared that he had a great childhood, and an exceptional household to be raised in.
In 1970 he moved with his parents to Queensland where Bob and Lynette Irwin started the small Queensland Reptile and Fauna Park, here Steve grew up around crocodiles, snakes, koalas, crocs, elephants, and birds.
At the age of 6 years he received as birthday present a huge scrub python. Since than he loved reptiles and after only three years at the age of nine he caught his first crocodile.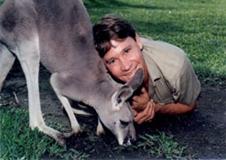 Irwin become involved with the park in a numbers of way, including taking part in daily animal feeding, as well as care and maintenance activities. On his sixth birthday he was given a 12-foot scrub python. He began handling crocodiles at the age of nine after his father had educated him on reptiles from an early age.
Also at age nine he wrestled his first crocodile, again under his father's supervision and often helped by his older sister Joy. He arrived later, to be a greatest naturalist and biologist because he was Steve loved animals since ever educated by his parents to love every single animalcule.
Steve graduated from Caloundra State High School in 1979. Soon he moved to Northern Queensland, where he became a crocodile trapper, removing crocs from populated areas, where they were considered a danger.
He performed the service for free, and he was allowed to take the crocodiles to his Park. Steve followed in his father's footsteps, becoming a volunteer for the Queensland Government's East Coast Crocodile Management program.
The hardest moment in Steve's life was in 2002, when his mother died in a tragic car accident. He described her as being the most important person in his life and a wonderful wildlife rehabilitator. At that time Steve was filming for the film Crocodile Hunter Collision Course. The filming was continued, and he dedicated it to his mother.
In her memory Steve established the Lyn Irwin Found. Fan's contributions were directed to help the Australia Zoo rehabilitate animals.
1.3. Terri
In October 1991 Steve met Terri Raines, at the Park while he was performing a demonstration. Terri asked him to make a photo with her, and she felt she doesn't want to go from there. It was love at first sight. Eight months later on June 4 1992 they got married.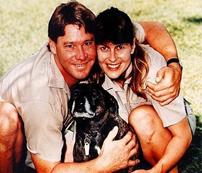 Terri Raines Irwin was born on 20 July 1964 Eugene Oregon in Unites States. Her family was involved in the trucking business. As a small child she constantly brought home injured animals from the highways, which his father truck traversed and these were the firsts steps for her to save and rehabilitating wild animals. While working in the family business in 1986 Terri started a rehabilitation facility called "Cougar Country" to re-educate and release predatory mammals such as foxes, bears, oppussums, raccoons, bobcats and cougars back into the wild. Soon she was handling 300 animals Steve and his wife Terri each year.
Terri joined an emergency veterinary hospital in 1989, as veterinary technician to further valuable knowledge on the care and support to all kinds of animals. Her life was very busy, as she still kept a hand in helping her dad run the family business rehabilitating animals through "Cougar Country", and working spare moments at the vet hospital.
In 1991 she went on a tour of Australia, and while visiting wildlife rehabilitation facilities, she had the chance meting Steve Irwin, whose father had managed the Australia Zoo at that time.
In three months they were engaged and after only eight months on June 4 1992 they were married. Destiny brought together from two different parts of the world and their commune passion for animals united them forever.
Steve and Terri became a team not only in their personal life, but also in their professional life. Their first television documentary was filmed on their honeymoon. The footage shot by John Stainton, became the first episode of The Crocodile Hunter which fast became successful in Australia, Great Britain, Unites States of America and all over the world.
The couple chose to settle in Australia Queensland and Terri had to leave her Caugar Country behind in Eugene. However as a partner in their wild life enterprises on television shows, she had been able to do greater work on behalf of animal husbandry.
1.4. Steve and Terri's children
Together they had two children: a daughter Bindi and a son Robert. Steve was very closed of his kids even from the beginning because he took part of his both children born.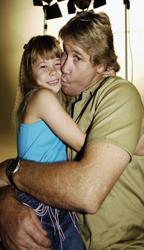 Bindi Sue Irwin was his first daughter born on July 24 1998 in Nambour Queensland Australia. Steve and Terry decided to name her after Steve's favorite animals: Bindi as a salt water crocodile from the Zoo and Sue after Steve's trusty dog, a bull Terrier which died in 2004.
Bindi made her first television appearance on "The Rosie O'Donnell Show" in 1999. She is the presenter of an as yet unreleased 26-part wildlife documentary called "Bindi the Jungle Girl" a
production of Discovery Kids television network. Steve and his daughter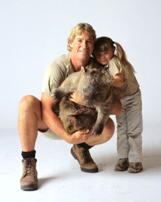 Additionally, she has appeared regularly in his father television shows, including "The Crocodile Hunter Diaries", and also appeared in the 2002 film "The Wiggles". Bindi began appearing on TV as a public figure as early as two years old. IN 2006 Bindi appeared on the cover of the Australian magazine New Ideea, the youngest person to do so in the magazine's 104 years history.
She has also a DVD about fitness and aerobic style dances, to promote the disaster effect of snacks on human health.
Bindi was extremely closed to her dad making many things together, they had a very special tile. Steve once described Bindi as "the reason I was put on this Earth".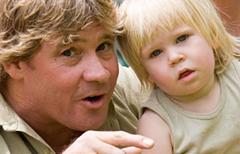 Robert Clarence Irwin is the second child of Steve and Terry and he was born on December 1 2003 in Buderim Australia. Bob was named after his grandparent's name. Bob was only two years when Steve died, and he couldn't take part very often at his father's actions as Bindi did. Steve and his son Bob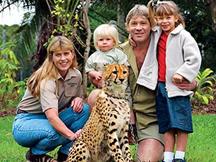 They were a beautiful a happy and a united family. Irwin family was a team who were a lot of time together doing and learning new things together.
Terry and Steve were both wonderful parents who educated their children to help and take care of animals, to love them and protect the Irwin family them as they would want everybody to do.
Putting their children close to wild animals wasn't considered a danger and a privilege. And the kids enjoyed taking contact with the wildlife under their parent's supervision.
Chapter 2. CAREER
2.1. Documentaries
The park was a family run business until it was turned over to Steve. In 1992 he took over the running of the Park, and renamed it Australia Zoo. He took contact with many others Zoo in all over the world, but he was particularly interested in Singapore Zoo, which he considered a sister institution of the Australia Zoo. He chooses a group of young brave men, who worked with him and shared his passion for animals.
From 1970 to 1992 he worked at Australia Zoo without appearing on television. He learned all what animal work means.
1992 was the year when he first appeared in a one-off reptile and wildlife special for a local television. The program was picked up by Discovery channel in the USA, establishing Irwin worldwide. In 1991 he met Terry Raines at the park, while he was performing a demonstration. The two married in June 1992. The footage shot by John Stainton, of their crocodile-trapping honeymoon became the first episode of "The Crocodile Hunter".
The series debuted on Australian TV screens in 1996 and by the following year had made its way onto North American television. The Crocodile Hunter became successful in the Unites States, and after US came United Kingdom to see Steve's adventure.
In 1988 he continued working with producer and director Mark Strickson, to present "The Ten Deadliest Snakes" in the world.
In 1999, Steve had became very popular in USA making his first appearance on The Tonight Show with Joy Leno. By this time The Crocodile Hunter was now broadcast in 137 countries reaching 500 millions people. In the same year Steve and Terry filmed "Croc Files" which were nominated at Emy Prizes.
In 2002 they launched another series of documentaries named "The Crocodile Hunter Diaries" which presents them and their employers working at the Zoo.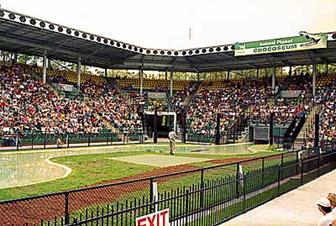 In 2002 John Stainton launched the film "The Crocodile Hunter Collision Course" where Steve played his own role.
Animal Planet ended The Crocodile Hunter with a final series untitled "Steve's Last Adventure".
The Crocosseum built by Steve
The last Croc Hunter documentary spanned three hours with footage of Irwin's across the world adventure locations, including Himalayas, the Yangtze River, Borneo, and Kruger National Park. He filmed 46 documentaries for Animal Planet and 20 series of Crocodile Diaries.
His exuberant and enthusiastic presenting style, broad Australian accent, constant wearing of khakis, and catchphrase "Crikey" become known worldwide.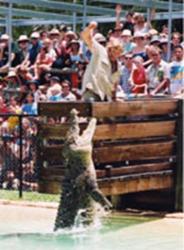 Under Irwin's leadership, the operation grew including the Zoo, the television series, The Steve Irwin Conservation Foundation (renamed Wildlife Warriors) and the International Crocodile Rescue. Improvements to the Australia Zoo had been brought by building the rain forest aviary Tiger Temple and Animal Planet Crocoseum, an amphitheater with 5000 places from where Steve could be seen facing huge crocodiles.
He mentioned that he was considering opening an Australian Zoo in Los Angeles, in Nevada and other sites around the world.
2.2.Film
Steve was not only naturalist, zoologist, conservationist but also a great actor.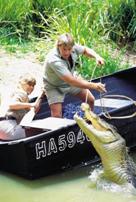 In 2001 Eddy Murphy invited Steve to play in his film "Dr. Dolittle" in which he attempts to wrestle an alligator and loses his arm.
Scenes from his movie
In 2002 his manager decided to make a film "The Crocodile Hunter Collision Course" with Steve the main character.
In the film Irwin mistakes some CIA agents for poachers. He set out to stop them from capturing a crocodile, which unknown to him has swallowed a tracking transmitter. The film won the Best Family Feature Film Award for a comedy at Young Artist Awards. The film was produced on a budget of about $12 million and has reached to $33 million.
In 2002 the Irwin appeared in the Wigglys video and DVD release Wiggles Safari which was set in Irwin's Australia Zoo. It featured Irwin-themes songs written and performed by the Wiggles such as: "Crocodile Hunter", "Australia Zoo"' "Snakes". Steve was featured prominently on the cover and throughout the film.
In 2003 Steve was reportedly in line to host a chat show on Australian network television, a series that never went into production.
In 2006, Irwin provided his voice for the animated film "Happy Feed" as on elephant seal named Trev. The film produced by Kennedy Miller is dedicated to Steve Irwin, who died a month after recording his role.
2.3. Later Projects
In January 2006 as part of "Australia Week" celebrations in the USA, Steve appeared at the Pauley Pavilion in Los Angeles California. During on interview on "The Tonight Show" with Joy Leno, he announced that Discovery Kids would be developing a show for his daughter Bindi. The show "Jungle Girl" was tipped to be similar to The Wiggles movies, with songs that surrounds the story.
In 2006, the American network The Travel Channel had begun to show a series of specials starring Irwin and his family, as they traveled on cross-country tours.
2.4. Media Work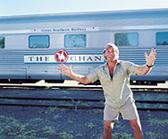 Steve was also involved in several media campaigns. He enthusiastically joined with the Australian Quarantine and Inspection Service. It is an agency for animals, plants, and human quarantine border controls of passengers and cargo.
Irwin got involved in this agency because AQIS's import and export inspection and certifications is essential to maintain Australian's highly favorable animal, plant or human health. His payments for these advertising campaigns were directed into his wildlife fund.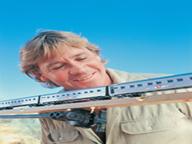 In 2004 he was appointed ambassador for The Ghan, the passengers train running from Adelaide to Alice Springs in the central Australian outback, when the line was extended all the way to Darwin that year.
He was keen promoter for Australia tourism in general and Queensland tourism in particular. His immense popularity in the USA meant he often promoted Australia as a tourist Ambassador of the Ghan
destination there.
2.5. Environmentalism
Irwin was a passionate conservationist and believed in promoting environmentalism by sharing his excitement about the natural world rather than preaching to people. He was concerned with conservation of endangered animals and land clearing leading to loss of habitat.
He considered conservation to be the most important part of his work: 'I consider myself a wildlife warrior. My mission is to save the world's endangered species.' Irwin bought 'large tracts of land' in Australia, Vanuatu, Fiji and the United States, which he described as 'like national parks' and stressed the importance of people realizing that they could each make a difference. Steve protected the environment the occeans and he once said "We are all part of The blue Planet and is our duty to conserv it ".
He had urged people to take part in considerate tourism and no support illegal hunting of fishing. He adverted people that more than 10.000 stingrays, turtles, dolphins and shark die every year in Pacific and Indian oceans caught in tunnel-net.
Steve fought against killing sharks for pharmacy industry. Steve strongly blamed people with macabre passions like butt out their cigarettes in gorilla-pew, ashtrays and trough their papers in baskets that once were elephant feet naming them "Hitlers" that use the camouflage of science to make money out of death animals.
Irwin pronounced himself against rich who like to wear tiger, leopard and cheetah fur or want to have in their offices elephant ivory, antlers or shark teeth.
He founded the "Steve Irwin Conservation Foundation", which was later renamed "Wildlife Warriors" and became an independent charity. Steve
also helped to found a number of other projects, such as "International Crocodile Rescue", and "Station Wildlife Rehabilitation Center".
2.6. Born for animals
Since he was a little boy he developed a special passion for animals, especially wild animals. Being born in Australia he grew up and lived surrounded by a unique world: plants, fauna, soils, temperatures and culture that made him become a unique person.
He taught us many things about the unique Australia's coral reef and undiscovered deserts. Steve was an unmistakable man who was always happy, funny, with a great character. He inherited his love for life from his parents and he passed it to his own children and through the television to millions of people.
Irwin presented us the life of all kind of animals, fish and birds, elephants but he had a special attraction for crocodiles that is why he was named "THE CROC HUNTER".
He saved many crocodiles, and showed us their habitat trying to make people to protect the oldest species of animals in the world (more than 65 millions years descendants of the dinosaurs) to understand them and to see the beautiful side of these huge predators.
He also tried to make people stop on destroying kangaroos, gorilla and other animals habitats and to stop the water pollution that have a fatal impact for whales, dolphins, sharks and see lions.
Steve also discovered a new specie of turtle that was named "Elseya Irwini" after its discoverer's name. It is a specie of an Australian turtle, which was caught by Steve and his father, on a fishing line during a family camp in 1990. They have never seen such a turtle before, took pictures and sent them to a turtle-expert who found that was indeed a new specie.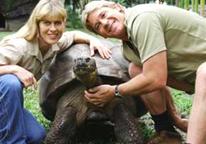 Steve also had at his Zoo a huge specie of turtle of 175 years old that passed away, from a heart failure, in the same year as Steve but few months earlier.
It is believed that the turtle belonged to scientist Charles Darwin and that it would had been brought in Australia by a friend of Darwin to enjoy a wormer climate. Harriet at her anniversary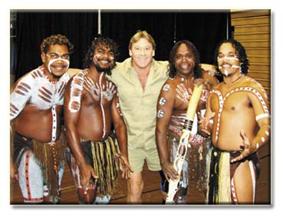 Steve also took contact with civilizations which live in lost forests, far away of human habits, and he educated these people not to kill animal and to respect them and tried to make them understand that animals don't attack unless they are Steve interacting with other cultures provoked. These groups of people helped him to catch and take care of snakes, crocodiles and other animals.
2.7. Accidents
Steve's job involved many risks and he knew it. He knew that the things he had done were dangerous, but with all these, Steve loved what he was doing. He enjoyed helping, he enjoyed be in action all the time in order to feel the adrenaline. He was an energetic guy who couldn't stay 12 hours closed in an office. He was the perfect man for this crazy job!
For Irwin didn't matter what was happening he had to be as close as he could of crocodiles, elephants, spiders, lions, sharks, whales. During his 44 years of activity he was hurt in an uncountable number of time times, but he fully recovered in time.
Steve was bitten by sharks, stuck by snakes, bitten by varanus and injured by crocodile's tail. Surprisingly he declared that the animal that fears of is parrot because is always biting his nose
In 2002 while he was filming "Crocodile Hunter Collision Course" he hurt himself to his knee, but he continued filming. He was also hit by a crocodile and needed 12 stitches.
Neither of these injures weren't fatal because he always knew how to react in difficult situations and he knew to anticipates animals movements. But at the end, one single instant of inattention cost him his life.
Chapter 3. PERSONAL LIFE
3.1. Humanitarian Aid
3.1.1.Red Cross Mobile Bank
Steve and his crew from Australia Zoo are not only helping the animals but also people that need desperate help. Each year in October Australia Zoo hosts the "Red Cross Mobile Blood Bank" to aid the collection of much needed blood donations.
Steve Terry and their staff members love to get involved in this event and happily give the precious blood that is so desperately needed to help save lives across the country. Australia Zoo offers advantages to the people who support Red Cross such as discount entry to the Zoo and free buffet breakfasts. Australia Zoo's efforts are always greatly appreciated by the Red Cross team.
3.1.2. Tsunami Aid
Australia Zoo is daily contacted for help. Australia Zoo generously responds to all kind of requests in whatever way they possibly can.
In late January 2005 representatives from Australia Zoo visited tsunami-devastated areas. The purpose of their trip was to provide humanitarian aid to forest guards and their families, affected by the disaster and to deliver urgently required veterinary supplies for elephants working to recover bodies from the area.
3.1.3. Red Nose
Red Nose is a charity foundation that is working to find a solution and support families affected by SIDA. Steve and Terry have been actively involved in Red Nose Foundation appearing with red noses at the Zoo, trying to educate people about the transmission, causes and effects of the disease.
3.1.4. Wish Granting
The Irwin family and Australia Zoo are dedicated to granting the wishes of children with life-threatening illnesses. Their involvement with charity organizations such as the Make-a-Wish and Starlight Foundations dates back to 1994, and has continued to grow and make an impact on the lives of these special children and their entire families.
For Terri, Steve and the Zoo Crew, making significant connections with children and families affected by illness is close to heart, and as important as saving wildlife. They value every child whose life is touched by the people and animals at Australia Zoo, and are committed to the ongoing support of the charities who allow them to connect with the children they represent.
Search and rescue effort in Mexico
In November 2003, Steve was filming a documentary on sea lions off the coast of Mexico's Baja California Peninsula when he heard via his boat's radio that two scuba divers were reported missing in the area.
Irwin and his entire crew suspended operations to aid in the search. His team's divers searched with the rescue divers, and Irwin used his vessel to patrol the waters around the island where the incident occurred, as well as using his satellite communications system to call in a rescue plane. On the second day of the search, kayakers found one of the divers, Scott Jones, perched on a narrow rock ledge jutting out from the side of a cliff.
Irwin and a crew member escorted him to Irwin's boat. Jones did not recognize his celebrity rescuer, as he had never seen Irwin on television. The other lost diver, Katie Vrooman, was found dead by a search plane later the same day not far from Jones' location.
Sports fan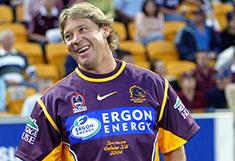 Having grown up in Essendon, Irwin was a fan of the Essendon Bombers, an Australian rules football club in the Australian Football League. Irwin took part in an Australian Rules football promotion in Los Angeles as part of 'Australia Week' in early 2006. Steve playing for his local team
After his death, a picture of Irwin wearing a Bombers Guernsey was shown by ESPN.com in their Bottom 10 ranking of the worst Division I-A college football teams after Week 1 of the season in tribute to him.
Living in Queensland most of his life, Irwin was also a fan of rugby league. As a teenager he played for the Caloundra Sharks as a second-rower, and as an adult he was known to be a passionate Brisbane Broncos fan and was involved with the club on several occasions.
On one occasion after turning up to training he asked if he could tackle the largest player, Shane Webcke. Despite being thrown to the ground and looking like he'd been crushed he was jovial about the experience.
Irwin laughingly shared the experience with the Queensland State of Origin squad before the 2006 series. Irwin also supported rugby union, being a fan of the national team, the Wallabies. He once wore Wallaby jersey during a demonstration at the zoo.
A behind-the-scenes episode of The Crocodile Hunter showed Irwin and the crew finding a gas station in a remote part of Namibia to watch the Wallabies defeat France in the 1999 Rugby World Cup Final.
Steve also liked tennis, one of the four Grand Slam tournament of the year, "Australian Open" takes place in Melbourne. He went to the court and his favorite player was of course, Leytton Hewitt, the well-ranked Australian after Rod Laver.
He loved mixed martial arts competitions and trained with Greg Jackson in the fighting/grapping system of Gaidoutsu.
Irwin was also a talented surfer and he developed his talent anytime he had the chance.
Another of Steve's passion was photography, he used to be a fantastic photographer and many times when the situations were too danger for the cameraman he made the filming himself.
3.3. Politics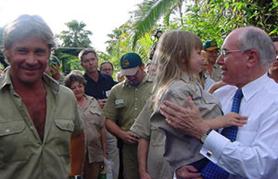 Irwin described John Howard the Prime Minister of Australia as "the greatest leader in the world".
Steve with Prime Minister John Howard
In October 2003 Prime Minister John Howard invited Steve to lunch with him and with President George Bush in Canberra. After questions arose about Steve being paid $ 175000 worth of tax payers money to appear in a television advertisement and his possible political tiles, he told ABC channel that he loves John Howard, but that he had nothing to do with politics and that he's not even a Liberal supporter.
Steve mentioned that he likes also Simon Crean who is the leader of the opposition, at the Federal level because they are a bloke who disagreed with Iraq war. He mentioned that he likes everyone who make good work, no matter what he's name is or what political current he belongs to.
3.4. Controversy
Steve appeared in a few media scandals, more or less grave. In 2002 he gave a declaration for the Sydney Morning Herald where he tried to worn people to take care of Australia's fauna. He said, "We should be eating beef and lamb, not kangaroos and crocodiles because they are why tourists came to Australia".
Sydney Morning Herald concluded that Steve is not having an equal care for all animals and he pointed that eating crocodiles and kangaroos is more cruel then eating other animals. Anyway people understood that what he really intended through the press release that he was to protect species existing in only few places in the world.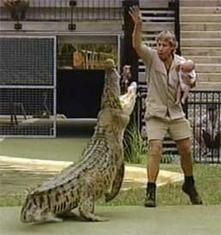 Another controversial episode was on January 2 2004, when during a live demonstration on Australia Zoo, Irwin held his one month child Bob in one arm while with the other he was finding a four meter crocodile named Murphy with a dead chicken.
He later walked the baby inside the crocodile's enclosure as crowds looked on. Terry sustained Steve and she said that was a wonderful sensory experience for Bob.
Steve and his one month baby Queensland "Families Minister" Judy Spence declared that there is no doubt that Steve loves his children very much, but it was an error of judgement to place the baby in a potentially dangerous situation.
His action was criticized by the television's viewers and he was made an irresponsible father. Keith Cook owner of a crocodile farm said That Steve was "a bloody idiot" to expose his child at such risks.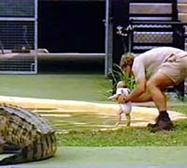 Even if he was bad criticized, the director of "Department of Children Protection Services" didn't bring Steve and Terry any charges. They contacted the Irwins and told them not to happen again. Terry and Steve said that is extremely important to teach children about crocodile safety since an early age, and not to rise them with fear of wild animals.
Steve refused to apology for the incident but he admitted that he probably would do the things a little differently if he made it again. Irwin also declared that he was in complete control and he would have lost it only if a meteorite hit Australia. He said that he would consider himself a bad parent if he didn't teach his children how to interact with crocodiles because they live in a crocodile's territory.
The incident determined the "State Government" to release new rules prohibiting children and any untrained adult from entering crocodiles enclosures.
In June 2004, few months later the baby incident, Steve was accused of getting to close to penguins seals and humpback whales in Antarctica, while he was filming a documentary for Animal Planet. Irwin denied any wrongdoing and Australian Environment Department Investigation recommended no actions to be taken against
him.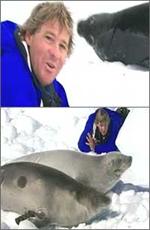 He is shown in the documentary sliding down icy slopes in Antarctica with penguins and wriggling in among a group of leopard seals. Steve also is alleged to have swum with humpback whales.
After that episode Irwin and his team, were investigated for possible breaches of the
"Environment Protection and Biodiversity Conservation Act".
He is shown in the documentary sliding down icy slopes in Antarctica with penguins and wriggling in among a group of leopard seals. Steve also is alleged Steve accused of wrongdoing
to have swum with humpback whales in Antarctica
After that episode Irwin and his team, were investigated for possible breaches of the "Environment Protection and Biodiversity Conservation Act."
Animal Planet declared that there was no intentional wrongdoing by Steve's side. The scientists were concerned for Irwin safety because one year before a leopard seal killed a woman who got too close of it. The law says that must be a distance of minimum 15-meter between a person and any wildlife in Antarctica. But Animal Planet Channel proved that there wasn't any intentional wrongdoing and the matter was subsequently closed without any charges after the investigation.
Steve said many times that he has just loved Antarctica and that it was the most extraordinary place in the world.
3.5. Honours
In 2001 Irwin was awarded the Century Medal for his "service to global conservation" and to Australian tourism.
In 2004 he was recognized as "Tourism Export of the Year". In the same year he was nominated for "Australian of the Year" an honor which was won by Steve Waugh. Irwin didn't win the prize because of the incident of with his baby four months earlier.
Shortly before his death, he was to be named an adjunct professor at the University of Queensland's School of Integrative Biology.
Chapter 4. THE END
4.1. Death
On September 4, 2006 the whole world received a terrible news: Steve Irwin died !!!!!!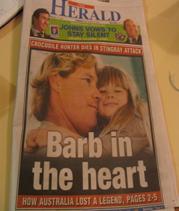 He was filming a documentary called "The Ocean's Deadliest", in the Indian Ocean, when he was fatally pierced in the chest by a stingray spine.
The incident took place in the Great Barrier Reef, which is located off Port Douglas in far North Queensland. A helicopter with paramedics on board immediately arrived there and tried to resuscitate him but it was too late, Steve died almost instantly after the stick.
Steve was swimming above a stingray, which he didn't see, and it stuck its spine into his heart. The venom that came through the spine barb provoked Steve a heart attack.
The accident was video taped by the cameraman who filmed the documentary, who described the footage of Steve death as "terrible". The tape shows how the stingray strung him and he, pulls out the poisonous barb. In the next second he was dead. The cameraman didn't realize what really happened only when he saw the blood.
It is a misery why the stingray stunk him, because they usually don't react violently, unless they feel threatened.
Steve's body was brought to Cairns morgue .The coroner Michael Barnes revealed that he has given the original tape of Irwin's dead to his wife Terry and she destroyed it and all the copies that the police needed for their investigation. A coroner would normally keep a tape for records, but in this case was made an exception, because Michael declared that he was offered 1 million dollars for the tape so the footage of Steve's dead to be posted on the Internet.
Terry, who hadn't seen the video herself, said that the tape will never see the light of the day and decided not to make it public. The film has been seen by Irwin's father and by his manager John Stainton and said that they don't want to see it again because it is terrifying.
The cause of Steve Irwin's death was "an accidental dead".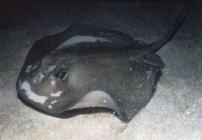 4.2. Stingray
Stingrays are cartilaginous marine fishes related to sharks. Stingray was called in the past "devil-fish" because of its shape and size.
There are more than 120 species of stingray and the majority live in the oceans but there are few species that live in fresh wasters also. Stingrays don't have teeth, and they feed with plankton, mollusks and crustaceans. Stingrays are usually docile creatures, which tolerate human presence, and they only react violently when they feel threatened and want to defend themselves.
This kind of fish has one or two barbs in their tail, which are whipped up when they feel any danger. These stings may reach 25 cm and they are connected to a gland with venom injecting into the enemy a poisonous substance. When they are not swimming they can be seen burrowing into the sand.
Stingray usually don't attack people, except two cases:
When human step on it because he can't see it, being buried into sand. They usually stick into the leg, and it is not fatal.
When human approaches too much and they feel threatened.
Stingray stick is not fatal only when it is located in vital organs like heart or stomach. Treatment for stings includes application of near-scalding water, which helps ease pain by denaturing the complex venom protein, and antibiotics.
Immediate injection of local anaesthetic in and around the wound is very helpful, as is the use of adjunct opiates such as intramuscular pethidine. Local anaesthetic brings almost instant relief for several hours. Other possible pain remedies include papain (papaya extract, contained in unseasoned powdered meat tenderizer), that may break down the protein of the toxins, although this may be more appropriate for jellyfish and similar stings.
Pain normally lasts up to 48 hours, but is most severe in the first 30-60 minutes and may be accompanied by nausea, fatigue, headaches, fever and chills. All stingray injuries should be medically assessed; the wound needs to be thoroughly cleaned, and surgical exploration is often required to remove any barb fragments remaining in the wound. Following cleaning, a radiograph is helpful to confirm removal of all the fragments. Unfortunately Steve was pierced in his heart, without no chance of surviving, probably because he swum too close of it. The attack on Irwin is believed to be the only fatal from a stingray ever captured on a film.
Barb that provoke dead are extremely rare, in known 3 cases of deaths from stingray attack and only 17 in the hole world.
4.3. Blacklash against stingrays
Few days after Steve's death authorities said that more than 10 stingrays were found dead and mutilated on Queensland's beaches. Biologist Wayne Sunpton from Department of Primary Industries and Fishes examined the stingrays found with their tails cut off and said that it was not known how they were cut off but because their big number, it is believed to be connected with Irwin' death.
Wildlife warrior executive director Michael Hornby friend of Steve reacted immediately through a communicate saying that the killings could be in relation to his death but this kind of behavior flew in face of everything The Crocodile Hunter believed in.
In the communicate Terry Irwin mentioned that they will not accept and not stand for anyone who's taken this form of retribution, because this is the last thing Steve would wanted.
In 2004 Steve made a documentary about stingrays through he precise that he was tried to stop stingrays accidental death. He precise that more than ten thousand stingrays die every year remaining caught in fishes tunnel-net. Irwin also talked about the beauty of these creatures and how important their role in the environment is.
His widow instantly asked Steve's fans to stop making these kind of acts and she hopes everyone to understand her husband's message and protect wildlife, now, more than never.
4.4.Reaction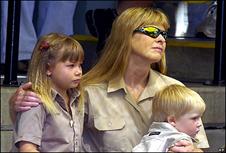 News of his death prompted widespread shock. His wife Terry, his two children, his father and all the people who knew Steve were destroyed when they
received the news. Terry and the kids destroyed
At that time Terry and their two children were in a walking tour in Cradle Mountain in Tasmania. When she was announced about the tragedy she Bindi and Bob returned via a private plane from Devenport to Sunshine Coast.
His father was burring a cow at the Zoo when he got the news and he declared that he had lost not only his son but also a great colleague.
4.5. Tribute brought to Steve
Australian Prime Minister John Howard expressed his "shock and distress" at the death of Steve saying that "Australia has lost a wonderful and a colorful son".
Irwin death provoked several Australian news web sites to go down because of the high traffic. Talk-back radio experienced a high volume of callers expressing their grief.
The U.S. feed of the Animal Planet cable television channel aired a special tribute to Steve Irwin that started on Monday, 4 September 2006. The tribute continued with the Animal Planet channel showing highlights of Irwin's more than 200 appearances on Discovery Networks shows.
Billy Campbell the president of Discovery Channel Communication, which produces Animal Planet, said that the entire company is deeply sadness by the tragic and sudden loss of Steve Irwin. He said that Steve was the most passionate conservationist in the world and that he had an essential role in building Animal Planet into a global brand.
On the evening of his death, Enough Rope re-broadcast an interview between Irwin and Andrew Denton originally broadcast in 2003. CNN showed a repeat of his interview on Larry King Live, originally recorded in 2004.
The Australian federal parliament opened on September 5, 2006 with condolence speeches by both the Prime Minister John Howard and the Leader of the Opposition Kim Beazley. The Seven Network aired a television memorial show as a tribute to Irwin on 5 September 2006, as did the Nine Network on September 6, 2006.
Jay Leno delivered a tribute to Irwin, describing him as a great ambassador of Australia. Irwin appeared on Leno's talk show on more than ten occasions. There were also tributes on Live with Regis & Kelly and Barbara Walters' The View; on the former show, Kelly Ripa came close to tears with her praise of Irwin.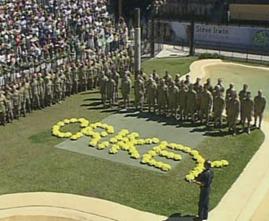 Hundreds of people visited Australia Zoo to pay tribute to the deceased entertainer and conservationist.
The day after his death, the volume of people visiting the zoo to pay their respects affected traffic so much that police reduced the speed Tribute brought by Steve's Zoo colleagues
limit around the Glass House Mountain Road and told motorists to expect delays. BBC reported on September 13, 2006 that thousands of fans have been to
Australia Zoo since Irwin's death, bringing flowers, candles, stuffed animals and messages of support.
Weeks after his death, Irwin's conservation foundation Wildlife Warriors reported that thousands of people from around the world were offering their support via donations to the conservation group.
4.6. Critics after his death
Dan Mathews, vice-president of animal rights group People for the Ethical Treatment of Animals, said it was 'no shock at all that Steve Irwin should die provoking a dangerous animal'. He added that 'Irwin made his career out of antagonising frightened wild animals, that's a very dangerous message to sand to the children ".
He also compared Steve with a responsible conservationist Jacques Cousteau and said that Steve looks like a cheap reality TV star". Cousteau declared that his message was "Don't touch the nature, just look at it", while Irwin message was "interfere with nature, jump on animals, grab them and hold them" which is very spectacular but dramatic and misleading way of presenting things.
In spite of what his grandparent said, Phillipe Cousteau Jr., Steve's partner at his last documentary, characterized him as a remarkable individual".
4.7. Funerals and memorials
Steve's family refused a state funeral offered by Prime Minister John Howard. His father told to the media that they won't accept state funeral because Steve would have wanted to be remembered like an "ordinarily bloke".
He also asked the media to give Terry a little time to recover before appearing in public, for the children safety.
The state representative Premier Peter Beatlie declared that they would honor Steve in whatever way his family want and that they completely understand and respect their decision.
Irwin was taken farewell by family and friends at a private funeral service held at Caloundra on the afternoon of 9 September. The naturalist was buried in a private ceremony at the zoo on the same day.
4.8. Memorial service
A public service was hold at the 5500 seat Animal Planet Crocoseum at Australia Zoo on September 2006. The service was broadcast live, commercial free in Australia, United Kingdom, Asia and Europe. It is estimated that over 300 millions viewers watched the ceremony.
Messages from all over the world came from people like Kevin Costner, Killy Minogue, Cameron Diaz, Justin Timberlake, Larry King, Russell Crowe etc.
Prime Minister Howard made a rarely speech as did Bob Irwin and Steve's daughter Bindi. Her speech was impressive and written by herself: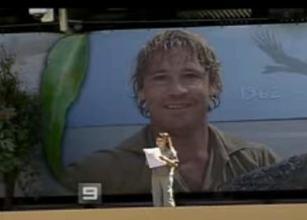 "My daddy was my hero - he was always there for me when I needed him. He listened to me and taught me so many things, but most of all he was fun.
I know that Daddy had an important job. He was working to change the world so everyone would love wildlife like he did. He built a hospital to help animals and Bindi reads her speech honoring her father
he bought lots of land to give animals at his memorial service
a safe place to live. He took me and my brother and my mum with him all the time.
We filmed together, caught crocodiles together and loved being in the bush together. I don't want Daddy's passion to ever end. I want to help endangered wildlife just like he did.
I have the best daddy in the whole world and I will miss him every day. When I see a crocodile I will always think of him and I know that Daddy made this zoo so everyone could come and learn to love all the animals. Daddy made this place his whole life and now it's our turn to help Daddy."
Bindi's speech at her father's funeral was the television moment of the year, as voted in the Australia TV Week Reader Poll 2006. Bindi's speech scooped 43 percent of the votes from the poll.
On a huge screen were photos with Steve and animals accompanied by the song "True Blue" Irwin's favorite.
At the end of the service flags flew at half most on the Sydney Harbor Bridge as a respect symbol.
4.9. Other memorials
After Steve's death some suggested a national park to be named after Irwin, and permanent memorial to be constructed in his honor, the details of the structure would depend on his family.
On January 1, 2007 Glasshouse Mountains Road that runs by Irwin's Australia Zoo, was officially renamed to "Steve Irwin Way".
There is presently a resolution under consideration in the Kentucky General Assembly to make February 22, 2007 Steve Irwin Day in honor of what would have been his 45th birthday.
Animal Planet is also creating "The Crikey Fund" to provide a way for people from across the globe to make contributions in Steve's honor to support, protect and preserve wildlife.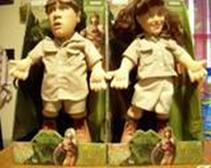 On January 21st both Animal Planet and Discovery broadcasted in Irwin memory "The Ocean's Deadliest" the documentary that Steve was working when he was killed and on March 4,2007 it was broadcasted by Animal Planet in Romania too.
Steve and Terry can be taken at home through, two beautiful dolls that represent them.
Steve and Terry dolls
4.10. The final hunt
From his hotel bed in Cairns, Australia, John Stainton stared at the ceiling and waited for sleep to take him. 1 a.m. 2 a.m. 3 a.m. But it never came.
His best friend and filmmaking partner of 15 years, Steve Irwin, had been dead for less than a day, the victim of a shocking stingray attack, and Stainton couldn't cry anymore, and he couldn't sleep.
So at 5 a.m., he picked up the phone and began calling friends. Not to reminisce, but to ask them to come back to work. The September 4, 2006, accident on the Great Barrier Reef occurred during filming the production of 'Ocean's Deadliest,' an Animal Planet documentary that Irwin was to host alongside Philippe Cousteau, grandson of the fabled oceanographer. Suddenly, 'Ocean's Deadliest' had become the Crocodile Hunter's last film, and it wasn't quite finished.
Lying in bed, Stainton says, 'I realized that we didn't have a film. And if we didn't finish it, then our last few weeks with Steve would've been in vain.' Already, however, the media were descending on Australia.
Irwin's death was worldwide news. If Stainton's crew waited even a week to get back on the water, they'd surely be followed and their work disrupted. It had to happen then.
The story continues below during the 90-minute 'Ocean's Deadliest,' which had premiere Sunday, January 21, on Animal Planet and the Discovery Channel, the only direct reference to Irwin's passing comes at the film's end: a still photo of him smiling and giving two thumbs up.
'This film isn't about his death,' says Stainton, who produced it. 'It's about the animals we set out to film.' Still, Irwin's accident is in the subtext of every frame.
Out of necessity, Cousteau hosts and narrates, instead of sharing duties with Irwin as they had planned. Irwin ends up as a kind of supporting player-an irrepressible scene stealer who comes and goes without explanation, though of course we all know what the explanation is.
Two key sequences, featuring great white sharks and the box jellyfish, were filmed after he died. When Irwin does appear on camera, his legendary daredevilry is more unsettling than ever. Watching him dive into the ocean to pluck out a venomous sea snake, or pretend to step on a reef stonefish to demonstrate its needlepoint defenses, it's hard to avoid the sensation that we're watching the chronicle of a death foretold.
Yet the film, in tone, is also a marked change of pace for the Australian naturalist. 'Ocean's Deadliest' is a science-first adventure, a pleading for ocean conservation and a poignant rebuke to those who had dismissed Irwin as a clownish circus act. 'There was a purpose to each of the expeditions in the film,' says Cousteau. 'It wasn't just, 'Hey, let's go look at these animals.' You're seeing brand-new research.
And Steve was in absolute heaven about that.' With his death, years of planned programming for Animal Planet vanished, as well as a long-gestating IMAX movie. 'Unfortunately, without Steve, they just don't make any sense,' says Maureen Smith, Animal Planet's general manager.
Finishing 'Ocean's Deadliest,' then, became essential and almost unbearable. Cousteau was on Irwin's boat, Croc One, when the accident occurred, and was one of the last people to see him alive.
Now Stainton was asking him to get back on the same boat, and go back to the same reef where Irwin died, just hours after it happened. 'A million things went through my mind, but in a split second my answer was yes,' says Cousteau. 'Like John said, I was the only person who could finish the film in a cohesive fashion. I had a responsibility.'
For the rest of Irwin's crew, the trip was even harder. His death left them not only devastated but astonished; they'd worked with him for years and had come to think of him as invincible. When the cameras rolled, they pasted on smiles. During every pause, someone was in tears.
Stainton was the only crew member who didn't get back on there, because he had a more wrenching task: escorting Irwin's body back to his home on the Sunshine Coast, north of Brisbane, where Irwin's widow, Terri, and his two children, Bindi and 2-year-old Bob, were waiting.
He also had to watch the footage that his crew shot of Irwin's deadly stingray encounter in order to ensure that the local coroner received the material he needed.
Later authorities announced that all copies of the footage had been destroyed and that they'd given the original to Terri. 'The footage has been the subject of widespread media interest and it was wholly appropriate that we took all possible steps to ensure something of such a personal and tragic nature did not fall into the wrong hands,' said Queensland state coroner Michael Barnes in a statement. Cousteau says. 'It just reinforces my belief that we still have work to do.'
And it will be that much harder without the animal kingdom's memorable friend !
4.11.Conclusion
I`ve decided to write this essay about Steve Irwin, because he was a special man, who impressed me. I grew up with his documentaries, I always saw him so active, so full of live and I arrived to understand and love him, and one day he suddenly just dies !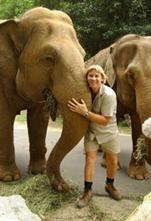 In his short life of only 44 years he made so many things and he lived so intensely every second that I'm sure he has no regret about anything.
In 44 years he accumulated so much experience, he knew and he did so many things, and he traveled in all over the world that he lived the events that other don't live in 100 years.
Steve dedicated his life to help other people and animals, he was able to transmit his passion and love to the team he was working with, and even after his death Australia Zoo continues to make, under Terri's conduce all the things that Steve would have wanted to do.
Irwin had a happy life, wonderful family that completely understood and supported his actions and which now have to go forward without him.
Every time you saw Steve's documentaries you learned new interesting things, about animals about civilizations and cultures, he made you understand the sensitive part of each animal even crocodiles, he made you feel better and through his spontaneity brought you into the magic world on nature.
The naturalist once declared that he didn't expect to live 100 years because he was aware of the risks of his job, but he would have never expect to die pierced by a stingray.
Steve was a professional, a devoted husband and father, an extraordinary man and definitely a conservationist.
In my opinion Steve was a unique man, and his death wasn't in vane, he lived for some values that he believed in, and I strongly think that we should take from him at least the involvement in the thighs that we believe in.
Steve Irwin was perhaps the only man loved equally by children, adults old, riches and poor, politicians, intellectuals and ordinary people. Through his actions he tried to make the world a better place !!!
I too began to think he was invincible.
PRECIS
Steve Irwin the man who was born in Essendon in an suburb of Melbourne arrived a great personality loved and respected by millions of people! In 1970 he moved with his parents to Queensland where he begun to construct a wildlife refuge. Steve grew up surrounded by all kind of animals that he took care of, together with his parents: father Bob officially a plumber and mother Lynnette a maternity nurse who was rescuing and rehabilitating local wildlife. He also built Queensland Reptile and Fauna Park.
The park was a family run business until it was turned over to Steve. In 1992 he took over the running of the Park, and renamed it Australia Zoo
In 1992 was his first apparition on television, the program was picked up by up by Discovery channel in the USA. His exuberant presenting style and his khaki shorts made him a TV star. In the same year he got married with Terri Raines and they had two children: a girl Bindi and a boy Bob.
His show "The Crocodile Hunter" became successful in the Unites States, United Kingdom and Australia. Not only people, but also the animals seemed to like interacting with him !
In 2002 John Stainton his friend and.. launched the film "The Crocodile Hunter Collision Course" where Steve played his own role. Animal Planet ended The Crocodile Hunter with a final series untitled "Steve's Last Adventure".
In 2002 he suffered a great loss the death of his mother a tragic car accident, that affected him very much and In her memory Steve established the Lyn Irwin Found. Fan's contributions were directed to help the Australia Zoo rehabilitate animals. Steve got involved in many rescuing projects he fight against illegal game fishing and hunt! Irwin together with his wife and all the crew from Australia Zoo, were also helping people and they offered constantly financially help to all kind of organizations like:"Red Cross Mobile Bank", " Red Nose Charity", " Wish Granting" he also helped the people affected by Tsunami in 2005.
He was a fan of sport ; Australian football , rugby, tennis and surf.
Steve was accused of getting to close to penguins seals and humpback whales in Antarctica, while he was filming a documentary for Animal Planet but Australian Environment Department Investigation recommended no actions to be taken against him.
On 4 September 2006 the new of his death shocked the entire world. Steve was pierced by a stingray while he was filming a documentary in Great Barrier Reef. The attack on Irwin was captured on a tape, which was destroyed by his family and will never be made public. At his funeral were present thousand of people friends, actors, televisions stars and it is estimated that over 300 millions viewers watched the ceremony on TV.
An interesting thing that he had joined a church short time before his death and Terri declared that he did believed in God.
His manager and friend Stainton said that he had talk with Steve, the day before he died, and he told him that if he ever was going to die, is going to be in the ocean, because on land he was agile, quick-thinking and quick moving but in the ocean he was put in another element over which he has no control.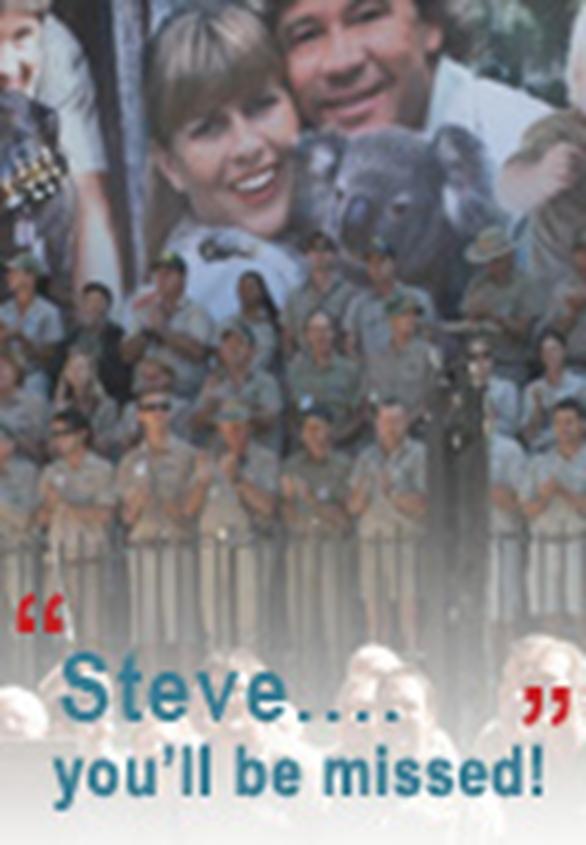 And it was like that ! For the first and last time he lost control over the situation!
A hero, an modest, loyal and trusty person, dynamic and disciplined man this is who Steve Irwin was !
Steve's death represented a great loss for the humanity, but his dreams are going to be continued through the passion of his family, friends and fans from all over the world because as he once said "Any dream can became reality with passion , enthusiasm and faith" !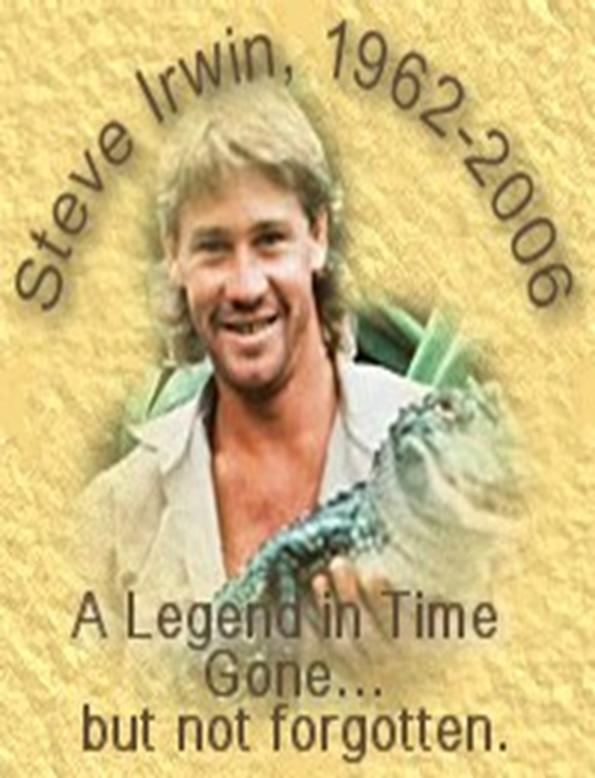 BIBLIOGRAPHY
COLLIER'S ENCICLOPEDIA
ENCARTA WORLD ATLAS 2004
WIKIPEDIA ENCYCLOPEDIA. https://www.wikipedia.org/
ANIMAL PLANET CHANNEL: "THE CROCODILE HUNTER"
DISCOVERY CHANNEL